Red and Yellow Soil in Indian Subcontinent
Red soil is a type of soil that develops in a warm, temperate, moist climate having a thin organic layer. Red soil develops on crystalline igneous rocks in areas of low rainfall in the eastern and southern part of the Deccan Plateau. These soils form the third largest group of soils in India.
Along the piedmont zone of the Western Ghat, long stretch of the area is occupied by red loamy soil. Yellow and red soils are also found in parts of Orissa and Chattisgarh and in the southern parts of the middle Ganga plain. The soil develops a reddish color due to a wide diffusion of iron in crystalline and metamorphic rocks. It looks yellow when it occurs in a hydrated form. The fine-grained red and yellow soils are normally fertile, whereas coarse-grained soils found in dry upland areas are poor in fertility. Red soil in India have the lacks of nitrogenous material, phosphoric acid, organic matter but the red soil id in rich in iron. They can produce excellent crops like cotton, jowar, linseed, fruits, millets, and potatoes.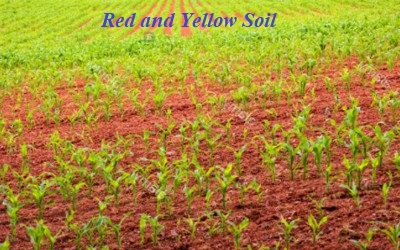 Characteristic Features:
Seen mainly in low rainfall area.
Have a porous and friable structure.
They are generally poor in nitrogen, phosphorous and humus.
These soils are airy and need irrigation for cultivation.
Intense leaching is a menace in these soil areas.