Meaning of Analytical Report
Analytical report refers to the report that contains information along with necessary analysis, explanation and recommendation. This reports offer both information and analysis, but they also include recommendations. That is, analytical report not only presents and analyzes information but also interprets the information and makes recommendations. This report usually deals with complex and critical issues. Some definitions of renowned authors are given below:
In the opinion of Himstreet and Baty, "Analytical reports attempt to solve problems."
According to Kitty O. Locker, "Reports can be called analytical reports if they interpret data but do not recommend action."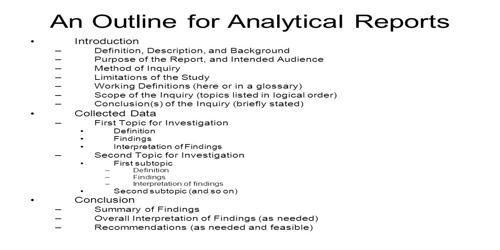 Finally, we can conclude that analytical report presents information along with necessary analysis, interpretation and conclusion. Examples of analytical reports are suggestion reports, which make suggestions, recommendations reports, which recommend actions; justification reports which state facts and request approval, feasibility reports, which cheek into the possibility of making changes etc .