Experiment: Determination of the radius of curvature of a spherical surface by a spherometer.
Theory: Radius of the curvature which is the portion of a sphere is called the radius of curvature of the spherical surface. It is expressed as R.
Radius of curvature, 6 R = (d2/6h + h/2)
Here, d = Average distance of the three legs of the spherometer;
And h = height or depth of the spherical surface from the surface of the three leg.
Reading of the spherometer = Main scale reading + circular scale reading x least count.
Apparatus: (1) spherometer, (2) plane plate, (3) spherical surface, (4) meter scale etc.
Procedure: (1) Find out the pitch and least count of the spherometer by knowing the total number of divisions of the circular scale and value of the smallest division of the spherometer.
(2) Instrumental error, if there is any, is also found out.
(3) The spherometer is placed on a plane plate. The head of the screw is turned in such a way that its end touches the plane plate.
(4) Readings of the linear and circular scales are taken. Vernier or fractional part is found out by multiplying the circular scale reading with least count. Total reading is calculated by adding the linear scale reading and fractional portion.
(5) Several readings are taken following the above procedures and mean value is found out.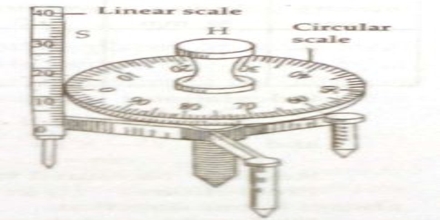 (6) Now place the spherometer on the curved surface. The screw-head is raised slowly and is placed in such a way that its front-end touches the maximum/minimum point of the curved surface. Following the above procedure the linear scale and circular scale readings are taken and the mean value is found out. Repeating the above procedure a few more number of readings are taken and the average value is calculate.
Difference of these two readings gives the value h.
(7) Using the metre scale distances between the three legs are found out and the mean value is calculated. This gives the value of d.
(8) Now using the values of h and d in the above equation R is found out.
Determination of Least count
Value of the minimum division of the linear scale = x mm
Pitch = x mm
Total number of divisions of the circular scale = y
Least count, K = Pitch/Total no. of circular division = (x/y) mm = … mm
Distance between the three legs of the spherometer = d mm