Difference between Hydrosere and Xerosere
Hydrosere
Succession takes place in wet habitats
Its first step is the submerged plant stage
Plants of the first stage are- Elodia, Hydrilla etc.
Succession is limited to six steps such as- Submerged stage, floating stage, reed swamp stage, woodland stage and climax forest stage.
A hydrosere is a plant succession which occurs in an area of fresh water such as in oxbow lakes and kettle lakes.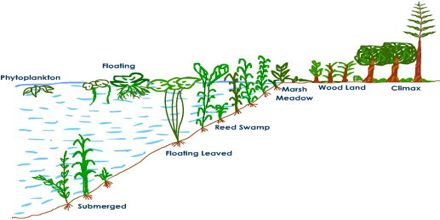 Fig: The different stage of Hydrosere
Xerosere
Succession begins with bare rocks, deserts; example: dry places.
Its first step is the blue-green algae as well as thalloid licken plant stage
Plants of the first stage are Rhizocarpon, Rhinodina etc.
This succession is ended by six stage, such as – thalluid, licken stage, leafy licken stage, moss stage, herb stage, shrub stage and climax forest Stage.
The xerarch succession of ecological communities originated in the extremely dry situation such as sand deserts, sand dunes, salt deserts, rock deserts etc.
Fig: The different stage of Xerosere