Cash Memo for recording of transactions
Cash Memo is a commercial document issued by the seller to the purchaser when cash is received as a payment. When a trader sells goods for cash, he gives a cash memo and when he purchases goods for cash, he receives a cash memo. Details regarding the items, quantity, rate and the price are mentioned in the cash memo. It works as a proof of cash payment made. When the cash is received for the sold goods, no debit is raised against it.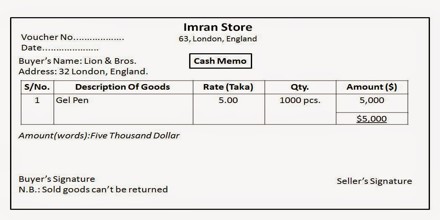 The cash memo includes the subsequent depiction:
Date
Serial Number
Name and address of supplier
Name and address of buyer
Unit price of goods
Quantity
Discount (if any, both for trade and cash discount)
Tax (VAT or Service tax as the case may be)
Total Amount Received
Signature of the cashier.